The Spyfall of David Betraeus Petraeus, the D/CIA, the Disgraced Spy Boss – Part 20121113
The Spyfall of David Betraeus Petraeus, the D/CIA, the Disgraced Spy Boss – Part 20121113
by S3ra Sutan Rajo Ali
Jakarta, 15 November 2012 22:46:39
20121113. 3
20121113, Petraeus Affair: Who Is Jill Kelley?. 3
20121113, Allen Wrenched. 6
Top U.S. commander in Afghanistan caught up in email snare — nomination to run NATO on hold. 6
201211130734, Jill Kelley, social liaison to MacDill Air Force Base, is mystery woman Paula Broadwell harassed via email leading to FBI probe. 7
Target of emails from Petraeus paramour is State Department military liaison. 7
201211131136, Men in Power: Why Do Women Have Affairs with Men like Petraeus?. 11
201211131219, What We Don't Know About the Petraeus Scandal: Questions for the FBI 14
XX Factor: What We Don't Know About the Petraeus Scandal: Questions for the FBI 14
The Real Scandal Is Why the FBI Was Investigating Those Harmless Emails in the First Place. 14
201211131356, Stop Judging, You Prudes. 15
201211131535, Generals backed Kelley's sister in court. 17
201211131614, Instead of "Dead Dropping," Petraeus and Broadwell Should Have Used These Email Security Tricks  19
Email Security Tricks To Hide Your Affair From Absolutely Everyone. 19
Future Tense: Instead of "Dead Dropping," Petraeus and Broadwell Should Have Used These Email Security Tricks  19
201211131639, Burn After Petraeus. 21
Brow Beat: Burn After Petraeus. 21
How Burn After Reading Explains the Petraeus Affair. 21
201211131659, 'Does your husband know you've been touching Petraeus under the table?' The cat-fight emails sent by Paula Broadwell to supposed love rival Jill Kelley. 22
201211131709, Dear Prudence offers unsolicited advice to David Petraeus, Paula Broadwell, and others embroiled in the growing sex scandal 25
Prudie's Advice for Paula Broadwell, Jill Kelley, David Petraeus, and the Gang. 25
Dear Prudence's Advice to David Petraeus, Paula Broadwell, Jill Kelley, and the Gang. 25
Dear Prudence: A Cheater's Checklist. 25
A Cheater's Checklist. 25
201211131733, Why Generals Cheat. 27
War Stories: Fred Kaplan on Why Generals Cheat. 27
201211131822, Your Primer on the Petraeus Scandal's Growing Cast-Now With Twins!. 29
Karl Rove tweeted a photo of himself and Broadwell 29
A Guide to the Key Players in the Petraeus Affair. 29
201211131806, UPDATES Petraeus-Broadwell-Allen-Kelley_ A running tab on the major and minor developments of the Petraeus story. 32
Kelley Tried To Stop FBI Probe Over Own Privacy Fears. 32
Report: Kelleys Have History of Money Woes. 32
The Plot Thickens: A Running Tab on the Bizarre Drip, Drip, Drip of the Petraeus Affair. 32
201211131921, Who Is Paula Broadwell's Husband?: Bio and Photos of Dr. Scott Broadwell 35
201211132031, Why the Petraeus scandal isn't the national security scandal Republicans wanted. 35
201211132039, The Most Unbelievable Details of the Petraeus Scandal (So Far). 37
The Scandal's Craziest Details (So Far). 37
A Guide to the Key Players in the Petraeus Affair. 37
201211132218, Paula Broadwell Is Staying in Mount Pleasant. 39
201211132223, Perverted Photoshopped cover of Petraeus biography mistaken for the real thing during live news broadcast. 40
201211132314, How Paula Broadwell and former CIA director David Petraeus used modern spy tricks to keep their affair a secret. 41
---
20121113
20121113, Petraeus Affair: Who Is Jill Kelley?
By CHRISTINA NG, MARTHA RADDATZ and LUIS MARTINEZ | ABC News – Tue, Nov 13, 2012
ABC News – Petraeus Affair: Who Is Jill Kelley? (ABC News)
The Florida socialite whose report of harassing emails from Paula Broadwell ultimately led to the resignation of CIA director Gen. David Petraeus forged close ties with top military and intelligence officials in Tampa, hosting lavish parties at her waterfront mansion and earning accolades as an "honorary ambassador" to the military and an honorary consul general for Korea.
But detractors say that Jill Kelley, 37, is a social climber whose lavish lifestyle is now threatened by millions of dollars in debt and possible foreclosure on her home, and who tried to exploit her connections, perhaps even enlisting Gen. Petraeus in her sister's bitter child custody fight.
Jill Kelley and her twin sister Natalie Khawam grew up in the Philadelphia area, daughters of a Lebanese immigrant couple who owned a local restaurant. Jill and Natalie would appear together on a 2003 episode of a Food Channel program called "Food Fight," in which they dressed in designer clothes while cooking alligator in a cook-off against two brothers.
After Kelley and her husband Scott, a cancer surgeon, moved to Tampa, Khawam came to live with them and their three children in their $1.5 million home on Bayshore Boulevard.
In Tampa, Kelley volunteered her time to support the military, planning and hosting charitable events for CENTCOM, the Defense Department's Central Command, which is based at Tampa's MacDill Air Force Base and has responsibility for directing operations in Iraq and Afghanistan. Kelley, her husband and her sister Natalie became friendly with major players, including both Gen. Petraeus and Gen. John Allen, commander of the International Security Assistance Force in Afghanistan.
"Jill is known as a gracious host, a vivacious individual," said Aaron Fodiman, editor and publisher of Tampa Bay Magazine.
Kelley's social efforts on behalf of the military earned her the unpaid title of "honorary ambassador" to Coalition Forces in Afghanistan, and she was also named honorary counsel for South Korea.
In a statement, Kelley and her husband Scott said they are close friends with the Petraeus family. The families have spent the holidays together several times over the years and celebrated Christmas together last year, according to Petraeus' daughter Anne's personal blog.
"Our friends from Tampa (the twins Jill and Natalie, plus Jill's husband Scott and their three little girls, as well as Natalie's 2-year-old son John) were in town and came over for an afternoon feast and presents at our place," she wrote in the blog.
"There was no question they were friends," said Fodiman, "and no reason why they wouldn't be friends." See the timeline of the Petraeus/Broadwell affair HERE.
This summer when Kelley received anonymous e-mails accusing her of flaunting a friendly relationship with military brass in Tampa, she called the FBI, which traced those e-mails back to the computer of Paula Broadwell, co-author of the Petraeus biography "All In." Investigators are said to have found emails in Broadwell's inbox that pointed to an intimate affair with Petraeus. Petraeus announced his resignation as CIA director on Friday.
After the media spotlight turned from Broadwell to Kelley, questions about Kelley's lifestyle and her ties to the military surfaced.
A U.S. official described Kelley as a "nice, bored, rich socialite" who drops "honorary" from her title and tells people she is an ambassador. The personalized license plate of her Mercedes trumpets her status as an honorary consul for the Korean government.
In a 911 tape from this past weekend, Kelley can be heard telling local police that alleged trespassers on her property need to be removed because of her diplomatic status. "I'm an honorary consul general," explains Kelley, "so I have inviolability, so they should not be able to cross my property."
In a statement Tuesday, the U.S. State Department emphasized that Kelley has no official diplomatic role. "She does not work for State," said a spokesman. "She has no affiliation with State."
Kelley and her husband Scott have also had to grapple with financial problems. They have been sued at least nine times. The couple faces foreclosure on their waterfront mansion and on an office building they own. Court records indicate that the Kelleys owe more than $2 million on the office building. The Kelley home also served as the office for a charity she and her husband set up for cancer victims that spent tens of thousands of dollars on travel, meals and entertainment.
The FBI has now uncovered "potentially inappropriate" emails between Gen. Allen and Kelley, according to a senior U.S. defense official who is traveling with Defense Secretary Leon Panetta. The department is reviewing between 20,000 and 30,000 documents connected to this matter, the official said. The email exchanges between Kelley and Allen took place from 2010 to 2012.
The U.S. official said the emails were "innocuous" and mostly about upcoming dinner parties and seeing him on TV. Allen denies he was involved in an affair, a Pentagon official said. An intermediary for Allen told ABC News that Allen and his wife are friends with Kelley and her husband and most of the emails were sent from Kelley to Allen's wife.
ABC News has learned that Gen. Allen also received an anonymous e-mail traced to Paula Broadwell, claiming Jill Kelley was a seductress.
Kelley's family is standing by her and denying any untoward allegations and insinuations.
"It is a shock," Kelley's brother, David Khawam, told ABC News' Tampa affiliate WFTS. "We are just trying to find out where the pieces are falling right now."
"She is very dedicated to her husband and to her kids," he said. "So, something like this is really pretty much a fluke. So, for anybody to paint her as otherwise is completely wrong."
But Kelley and her sister had apparently grown so close to the high-level military officials that both Petraeus and Allen wrote letters on Khawam's behalf in September as she battled her ex-husband Grayson Wolfe for custody of her son, even as the judge in the custody dispute wrote that Kwaham had "severe psychological deficits."
In November 2011, the D.C. Superior Court had ruled that Khawam's husband would get sole legal and primary custody of the child.
The judge wrote that Khawam "has exhibited an utter disregard for the child's interest" in maintaining a meaningful relationship with his father, that she "has extreme personal deficits in the areas of honesty and integrity," and that she has exhibited a "willingness to say anything, even under oath, to advance her own personal interests at the expense" of her husband, the child, and others.
"The court fully expects that Ms. Khawam's pattern of misrepresentations about virtually everything, including the most important aspects of her life, will continue indefinitely," the judge wrote.
It is not currently known if Petraeus or Allen knew about the judge's harsh comments regarding Khawam, but the two wrote letters on Khawam's behalf almost a year later in September 2012.
Petraeus stated that he and his wife had known Khawam for about three years, getting to know her while serving in Tampa, and maintaining their friendship since then.
"We have seen a very loving relationship — a Mother working hard to provide her son enjoyable, educational, and developmental experiences," Petraeus wrote, according to a copy of the letter posted on Scribd. "Natalie clearly dotes on her son and goes to great lengths–and great expense–to spend quality time with him."
A letter from Allen to the court also painted a portrait of a loving and devoted mother who "places the needs of her son above her own."
Natalie Khawam is also deeply in debt and filed for bankruptcy in Florida in April 2012. In a document filed with the Tampa Division of the U.S. Bankruptcy Court, Khawam cited $350,000 in assets and $3.6 million in liabilities, including $800,000 owed to her sister and brother-in-law. Her listed personal property included six Chanel purses, a Cartier watch, and a trove of diamond jewelry valued at $50,000, including the watch. The items are in the possession of Khawam's ex-husband, according to the court documents.
Khawam has also sued a former employer, Barry Cohen, claiming that Cohen, an attorney, owed her money and failed to take action when she reported sexual harassment. According to the Tampa Bay Times, Cohen wants the court to dismiss the case and fine Khawam $500,000 for a "bad faith" filing.
In 2007, the Kelleys and Khawam founded a charity called the Doctor Kelley Cancer Foundation that was meant to conduct cancer research and grant wishes to terminally ill adults. The charity, which the couple ran out of their home, raised $157,000 and spent $157,000 before going bankrupt. About $135,000 went to travel, entertainment, legal fees, office expenses, "automotive expenses," and utilities.
The Kelley family has hired attorney Abbe Lowell, who represented John Edwards, and crisis manager Judy Smith, who worked for Monica Lewinsky.
20121113, Allen Wrenched
Top U.S. commander in Afghanistan caught up in email snare — nomination to run NATO on hold
By Mark ThompsonNov. 13, 2012
general-john-allen.jpg
Chip Somodevilla / Getty Images
ISAF Commander Gen. John Allen is under investigation after allegedly sending inappropriate emails to a woman linked with the scandal which resulted in the recent resignation of CIA head General David Petraeus.
The nomination of the U.S. commander of the war in Afghanistan to run NATO and U.S. European Command – perhaps the Pentagon's most prestigious overseas posting – has been delayed because the four-star Marine general is now being investigated for emails from the woman who alerted the FBI and led to the revelation that CIA chief David Petraeus was having an affair.
Out of the country and several miles safely over the Pacific aboard his Doomsday plane, Defense Secretary Leon Panetta early Tuesday decided to halt, at least temporarily, the nomination of General John Allen as NATO military chief. "I have asked the President – and the President has agreed – to put his nomination on hold until the relevant facts are determined," Panetta said in a statement. "I have asked both Senators [Carl] Levin and [John] McCain that the confirmation hearing on General Allen's pending nomination to be Commander of United States European Command and Supreme Allied Commander, Europe be delayed."
(MORE: Petraeus to Face a Court-Martial?)
The FBI has found between 20,000 and 30,000 pages of communications, largely emails from 2010 to 2012, between Allen and Jill Kelley, a long-time friend of the Petraeus family and a Tampa, Fla., volunteer social liaison with military families at MacDill Air Force Base, a U.S. official told reporters traveling with Panetta to Australia. They included "potentially inappropriate" communications, and the sheer volume is extraordinary. Pentagon officials are dumb-founded and wonder if any additional cases are out there, ticking away.
Allen spent three years at MacDill – headquarters of the U.S. Central Command – (as Petraeus' deputy there from 2008 to 2010) before leaving Tampa to take over command of the Afghan war from Petraeus. Allen, who is married, has denied any wrongdoing. Panetta has handed the investigation over to the Defense Department's inspector general. "He is entitled to due process in this matter," the defense secretary said.
Kelley complained about harassing emails from the woman with whom Petraeus had had an affair, Paula Broadwell, that prompted an FBI investigation, leading to Petraeus quitting the CIA post last Friday. Allen's Senate hearing to become Supreme Allied Commander Europe and NATO military chief had been slated for Thursday.
201211130734, Jill Kelley, social liaison to MacDill Air Force Base, is mystery woman Paula Broadwell harassed via email leading to FBI probe
Target of emails from Petraeus paramour is State Department military liaison
By Matthew Solan In Sanibel, Fla. , Marty Clear In Tampa , Matthew Lysiak In Bismarck, N.d. AND Bill Hutchinson / NEW YORK DAILY NEWS
Published: Sunday, November 11, 2012, 3:04 PM
Updated: Tuesday, November 13, 2012, 7:34 AM
Jill Kelley, 37, of Tampa, Fla., reportedly alerted the FBI several months ago about threatening emails she had received from Petraeus alleged mistress, biographer Paula Broadwell, a senior military official told the Associated Press.
Jill Kelley, 37, (right) is believed to be the 'mystery woman' who blew the lid off former CIA Director David Petraeus' career-ending affair. She is seen here with Petraeus' wife Holly Petraeus (left) and her husband Scott Kelley at a party.
The mystery woman who blew the lid off former CIA Director David Petraeus' career-ending affair is also tied to the military – a sexy social liaison for an Air Force base in Tampa who says she and the ex-general are just "friends."
RELATED: FBI AGENT SENT TOPLESS PICTURES TO PETRAEUS WHISTLEBLOWER
Jill Kelley, 37, a married mother of three from the Gulf Coast city, alerted the FBI several months ago after receiving emails from Petraeus' alleged mistress, biographer Paula Broadwell, warning the stunning Tampa socialite to "stay away from" the spymaster, according to sources with knowledge of the messages.
RELATED: COMMANDER IN AFGHANISTAN SENT THOUSANDS OF EMAILS TO WHISTLEBLOWER
Bill Serne/New York Daily News
Jill Kelley with Vice Admiral Robert Harward and husband, Scott, in Tampa Fla.
The raven-haired Kelley, who has an unpaid position as a social planner for MacDill Air Force Base, insisted in a statement Sunday her relationship with the retired four-star general and ex-CIA director was platonic, dating to when Petraeus ran the U.S. Central Command from the base.
"We and our family have been friends with Gen. Petraeus and his family for over five years," Kelley said. "We respect his family's privacy and want the same for us and our three children."
TWO FAMILIES SHATTERED: CIA DIRECTOR DAVID PETRAEUS' ACCUSED MISTRESS HAS 'IDYLLIC FAMILY'
BEFORE AFAIR WENT PUBLIC, PETRAEUS' MISTRESS SAID GENERAL HAD 'NO DIRTY SECRETS'
Amy Scherzer/Tampa Bay Times
Kelley is seen with Petraeus and his wife Holly in 2010. (From L to R) Natalie Khawam, Gen. David Petraeus, Dr. Scott Kelley, his wife Jill Kelley and Holly Petraeus, the wife of Gen. David Petraeus, watching the Gasparilla parade from the comfort of tent on the Kelleys front lawn on Jan. 30. 2010, in Tampa, Fla.
But Broadwell's father said Sunday his daughter is the victim of character assassination and implied the bombshell story is just a smoke screen for something bigger.
"This is about something else entirely, and the truth will come out," Broadwell's dad, Paul Krantz, told the Daily News outside his home in Bismarck, N.D.
"There is a lot more that is going to come out," said Krantz, claiming he was not allowed to elaborate. "You wait and see. There's a lot more here than meets the eye."
He said he supports his daughter "100%."
PETRAEUS AFFAIR: TIMELINE ON PAULA BROADWELL AND THE GENERAL'S PHYSICAL SPECIAL OPS
CSM Marvin L. Hill
Paula Broadwell flying with General Petraeus to Afghanistan in June 2011. Petraeus resigned as head of the CIA because he was having an affair with the author.
"I stand by my daughter. She is an exceptional person," Krantz told The News, adding that Broadwell, a West Point grad, and her family were "doing well, considering."
Kelley has not spoken publicly about the scandal. She and her husband, Dr. Scott Kelley, were busy Sunday entertaining guests at a birthday party for one of their daughters at their colonial-style mansion overlooking Tampa's Hillsborough Bay.
Bill Serne/New York Daily News
Photos taken of Jill Kelley in her front yard during a birthday gathering in Tampa, Fla.
In an exclusive photo obtained by The News, the Kelleys appeared worried while speaking with Vice Adm. Robert Harward, deputy commander of the Central Command, who showed up at the party in his white dress uniform.
Jill Kelley was raised in Philadelphia, where her family settled in the mid-1970s and opened a Middle Eastern restaurant after immigrating from Lebanon. Her father, John Khawam, was a renowned organist in Lebanon.
ISAF/AFP/Getty Images
Members of Congress want to know whether national security was ever compromised in the Petraeus affair.
A close friend of Petraeus told ABC News that Kelley saw the general often, but their relationship was innocent.
"It is very clear there was nothing going on other than friendship between Kelley and Petraeus," the friend said.
In 2010, Kelley and her husband, a surgeon at Moffitt Cancer Center in Tampa, invited Petraeus and his wife of 38 years, Holly, to be their guests at a party for the Gasparilla parade, an annual pirate-themed festival in Tampa. At the time, Petraeus ran the Central Command from MacDill.
Getty Images
A June 23, 2011 photo shows Paula Broadwell (second from left) watching as Petraeus and his wife arrive for a Senate Select Intelligence Committee hearing on Petraeus' nomination to be director of the CIA.
Kelley's 7-year-old  daughter,  Caroline, even posted a family photo album online that she dedicated to her parents and included family photos – one of her and her sisters posing with Petraeus.
"I was with Gen. Petraeus. He came to my house," Caroline wrote.
Broadwell's extended family members were completely caught off guard by the news of Petraeus' shocking resignation, which broke Friday.
"They didn't find out about the affair until they saw it on the news Friday night," the grandmother of Broadwell's husband, Scott, told The News. "Everyone's reaction was shock. We were all shell-shocked."
T. Ortega Gaines/The Charlotte Observer via AP
Paula Broadwell, author of the David Petraeus biography "All In," poses for photos in Charlotte, N.C. Petraeus, the retired four-star general renowned for taking charge of the military campaigns in Iraq and then Afghanistan, abruptly resigned Friday, Nov. 9, 2012 as director of the CIA, admitting to an extramarital affair.
The grandmother, who would only give her first name, Sylvia, described Paula Broadwell as "intelligent and really smart."
"She's too smart for that," said Sylvia, adding that her grandson is "a wonderful father to those two young kids."
She said Scott Broadwell's parents in Sanibel, Fla., "felt like the rug was pulled out from under them."
"It's a sad situation," the grandmother said.
Petraeus began seeing Paula Broadwell, a writer with a military background, on the side in 2011, several months after he retired from the military, but ended the romance about four months ago, sources told ABC News.
BuzzFeed, citing sources, said he took her on a government-funded trip to Paris in July 2011.
Russell Broadwell, Scott's father, confirmed to The News that he, too, was astonished by the news he first heard on TV Friday.
Asked if he has spoken to his son, Broadwell said, "Of course, he's my son." He refused to further comment.
Paula Broadwell, 40 (above), wrote the biography "All In: The Education of General David Petraeus." She has yet to publicly comment on the scandal that has rocked Washington and the U.S. security community.
A source told The Wall Street Journal that Broadwell, who lives in North Carolina, became jealous when she suspected Kelley was in a romantic relationship with Petraeus.
AP Photo
Petraeus testifies on Capitol Hill in 2008.
Kelley's twin sister, Natalie Khawam, is a lawyer who represents whistleblowers, but there was no indication Sunday that she was representing her sister.
The FBI probe into the menacing emails uncovered other exchanges between Broadwell and Petraeus' personal email account that made clear their relationship had gone beyond professional limits, including one that talked about "sex under a desk."
The scandal is spreading beyond the participants into the political arena. Several top lawmakers are demanding more information about what the FBI, the CIA and President Obama knew – and when they knew it.
Obama accepted the 60-year-old Petraeus' resignation Friday, a mere three days after his reelection.
AP Photo
Petraeus is sworn in by Joe Biden as CIA director in the White House – as his wife looks on.
Rep. Dave Reichert (R-Wash.) confirmed Sunday he first learned of the affair several months ago from a friend who knows Kelley. Reichert told House Majority Leader Eric Cantor (R-Va.), who put Kelley in touch with FBI Director Robert Mueller.
Cantor's staff didn't immediately tell the House Intelligence Committee or other House leaders because they didn't know whether the information was credible, Fox News reported.
Retired U.S. Army Col. Steve Boylan, Petraeus' former spokesman, said the general is kicking himself for his atrocious lack of judgment.
"He hugely regrets what happened," Boylan told ABC News. "He pretty much threw away the best job he ever had and put his family through something just too hard to describe."
201211131136, Men in Power: Why Do Women Have Affairs with Men like Petraeus?
By Lylah M. Alphonse, Senior Editor, Yahoo! Shine, Tue, Nov 13, 2012 11:36 AM EST
Bill Clinton had Monica Lewinsky. John Edwards had Rielle Hunter. Anthony Weiner had, well, the internet. Now, with the news that highly respected retired General David Petraeus resigned as CIA director after having an extramarital affair with his biographer, Paula Broadwell, women are wondering: What makes these men think they won't get caught? And why do women keep having affairs with these guys to begin with?
"Like the 'tall, dark, and handsome' cliche, some women are attracted to men who possess the three qualities of wealth, celebrity, and influence," Dr. Terri Orbuch, director of a 25-year-long study on marriage and divorce funded by the National Institute of Health, told Yahoo! Shine in an interview. "From a purely biological perspective, for females success implies that the male will be a good provider and offer security. Of course, this makes little sense in the case of a married man, but it is nevertheless part of the underlying, unconscious appeal such men have to women."
Emotional need may also play a role. In his autobiography, Clinton said that he cheated on his wife with Lewinsky "just because I could," but Lewinsky has said that she wasn't simply attracted to the former President.
"I fell in love," she told a grand jury in 1998. "We spent hours on the phone talking. It was emotional. We were very affectionate, even when-after he broke the relationship off in-maybe, I mean, when I'd go to visit with him, we'd-you know, we'd hug each other a lot. You know, he always used to like to stroke my hair. He-we'd hold hands. We'd smile a lot. We discussed a variety-you know, a wide range of things. So, I mean, it was-there was a real component of a relationship to it and I just-I thought he had a beautiful soul."
Rielle Hunter may have piqued former presidential hopeful John Edwards' interest by telling him, "You're hot!," but after the affair was over she told CNN's Piers Morgan that it was about love, not sex.
"I actually regret having an affair with a married man," she said in April. "I do. It's an awful thing. But I don't regret loving him."
"In a culture raised on Disney films, love may seem like the best justification of all," says Rick Reynolds of Affair Recovery. "Don't all cravings and desires need to be fulfilled? Far too often the consequences of infidelity are buried under the fantasy of falling in love."
There's a biological component as well. While a person can't "fall in love" at will to justify anything, Orbuch told Yahoo! Shine, "Levels of dopamine, norepinephrine, testosterone, phenylethylamine (PEA), and serotonin spike in the brain when we are experiencing romantic love. It's a potent cascade of love chemicals that influence our mood, rationality, and responses."
"In other words, when a woman has a mad crush on a man, she's probably not thinking too clearly. She's not thinking about the consequences-nor is he," Orbuch continued. "Once they've been bitten by the lust bug, they are like a fast-moving locomotive. A train wreck may be ahead (usually is), but they can't see it, or they choose not to."
Men in positions of power have plenty of opportunities to stray, and men in high-risk jobs-like politics and the military-may crave the adrenaline rush that comes with a new conquest. There are also plenty of opportunities for them to be unfaithful to their wives: Witness Arnold Schwarzenegger and his affair (and resulting love child) with his housekeeper, Patty Baena, or Eliot Spitzer, a.k.a. "Client-9," and the thousands of dollars he spent hiring prostitutes.
"The most common reason for an affair is high opportunity," psychologist Barry McCarthy told Psychology Today. "People fall into affairs rather than plan them."
But a 2011 study suggests that there's more to Petraeus' affair than that. According to researchers at Tillburg University in the Netherlands and Northwestern University in the U.S., both men and women in positions of power are more likely to think that societal rules don't apply to them-even if their power is temporary.
"The powerful engaged in more immoral behavior but found such behavior less acceptable," writes Joris Lammers, who co-authored the study. "The powerful judged their own moral transgressions more acceptable, but the same transgressions committed by others less acceptable compared to low-power participants." He calls this "Moral Hypocrisy" and, most people would agree, politicians and celebrities the world over have this in spades.
As a general, Petraeus, was lauded for his integrity and honor, but he was also used to having near-absolute authority and a high-stress, adrenaline-fueled job-a combination that made him a perfect candidate for an extramarital affair, especially given that Broadwell was 20 years his junior, attractive, and openly admired him.
Petraeus, 60, met Broadwell, 40, in 2006, when she was a doctoral student at Harvard University and he was a lieutenant general. The fact that he chose her to write his biography, "All In: The Education of General David Petraeus," in 2010 raised warning flags from the start.
"For him to allow the very first biography to be written about him to be written by someone who had never written a book before, seemed very odd to me," Peter Mansoor, who worked as an aide to the former general, told ABC News.
Broadwell had nearly free access to the general during the six trips she made to Afghanistan as his official biographer; the Washington Post reports that the married mother of two was treated "as though she were a member of Petraeus' inner circle and was afforded VIP housing in the main U.S.-NATO headquarters in Kabul"-a huge change from his "no reporters in my headquarters" stance in Iraq. Sources close to the general told ABC News that while in Afghanistan, Broadwell was embarrassingly "gushy" about Petraeus, and seemed to think she "was in love with him."
Their affair began after he retired from the Army in 2011, Petraeus says, and experts agree that a stressful transition or major life change can trigger infidelity. Petraeus' entire life has been defined by his military career, from his education at the U.S. Military Academy at West Point to his rise through the Army ranks; missing the military and the instant respect he commanded as a general could have made his relationship with Broadwell-who also graduated from West Point and is a lieutenant colonel in the Army Reserves-even more attractive, a chance to relive his glory days with someone who could relate to Army life and admire his many military achievements. For Broadwell, who had already spent years researching Petraeus' life, it would have been easy to revel in the attention of a war hero-something her non-military husband couldn't offer.
While it's unclear whether Petraeus has had any other extramarital relationships (or whether he shared classified information with Broadwell), critics say he's had plenty of practice at hiding things in plain sight-another hallmark of powerful people who know that their actions are unlikely to be questioned.
"More so than any other leading military figure, Petraeus' entire philosophy has been based on hiding the truth, on deception, on building a false image," Michael Hastings, who has covered Petraeus for seven years now, points out at Buzzfeed. " 'Perception' is key, he wrote in his 1987 Princeton dissertation: 'What policymakers believe to have taken place in any particular case is what matters-more than what actually occurred.' Yes, it's not what actually happens that matters-it's what you can convince the public it thinks happened."
201211131219, What We Don't Know About the Petraeus Scandal: Questions for the FBI
XX Factor: What We Don't Know About the Petraeus Scandal: Questions for the FBI
The Real Scandal Is Why the FBI Was Investigating Those Harmless Emails in the First Place
By Emily Bazelon, Tuesday, Nov. 13, 2012, at 12:19 PM ET
President Barack Obama with ISAF Commander General John R. Allen during the 2012 NATO Summit  in Chicago.
Photo by MANDEL NGAN/AFP/GettyImages
The David Petraeus scandal has moved on to General John R. Allen, commander of U.S. and NATO troops in Afghanistan and sender of 20,000 to 30,000 pages of apparently questionable emails to Jill Kelley, the second woman, along with Paula Broadwell, at the center of this crazy story. I am stuck, though, on how this whole investigation got started and how it proceeded. Questions for the FBI:
1) Why did Jill Kelley's complaint launch an investigation in the first place? She got a half-dozen or so anonymous emails that everyone is calling "harassing." But from what we know so far, the messages don't sound alarming or threatening. From a Daily Beast source: "More like, 'Who do you think you are? … You parade around the base … You need to take it down a notch.'" From the Wall Street Journal: "One asked if Ms. Kelley's husband was aware of her actions, according to officials. In another, the anonymous writer claimed to have watched Ms. Kelley touching 'him' provocatively underneath a table, the officials said."
That was seriously enough to get the FBI involved? My reporting on cyberbullying tells me that if Kelley had gone to the cops in any decent-sized city, they'd have told her politely not to worry about it. And that's as it should be: Without anything like an explicit threat-and without any direct reference whatsoever to Petraeus or anyone else in a sensitive position of power-why should law enforcement pry with so little reason to think a crime has been committed? Stalking and harassment are broad charges, sure, and that can cause problems. But those statutes shouldn't trigger an investigation based on so little evidence. We now know, of course, that the FBI agent Kelley complained to has been accused of sending shirtless photos of himself to her. He's now himself under investigation. If he got this all rolling to show off to Kelley or to court her, then that is the real scandal. Even if you don't know much J. Edgar Hoover history, you can see that this is not what the power of the FBI is for. Maybe there is more to justify the FBI's entry: I'd like to know what persuaded the cybercrimes unit Mr. Shirtless informed to take the next step.
2) Did the government get a warrant to search Paula Broadwell's email account? Conflicting reports on this one, as Julian Sanchez has noted. The Wall Street Journal says yes but Reuters says no: "The FBI investigation into the emails was fairly straightforward and did not require obtaining court orders to monitor the email accounts of those involved, including the personal email account of Petraeus." What? Yes, the FBI can read the emails Kelley turned over to them without a warrant. But to go snooping further, shouldn't investigators have to get one? This is not a legal nicety. Warrants are the basic constitutional check on the power of law enforcement and prosecutors to search and seize.
3) Once the FBI established that neither Broadwell nor Petraeus had committed a crime, why did they tell Director of National Intelligence James Clapper and the White House? This question comes from law professor Orin Kerr at The Volokh Conspiracy. I get that once the FBI found sexually explicit emails between Broadwell and Petraeus (given the potential for blackmailing the head of the CIA), the investigators had to press on. And when Broadwell gave them her computer and they found classified material on it, they had to determine whether it came from Petraeus. But then the Department of Justice reportedly concluded that no crime had been committed. And yet, as Orin writes:
According to the New York Times, at that point the FBI decided to notify the Director of National Intelligence about the investigation. But it's not entirely clear to me exactly why they did that or who else was notified, or exactly why Petraeus resigned. So the uncertain part of the story isn't so much the investigation as it is the notification after the investigation had largely (if tentatively) ended. I'd be interested to know who was notified and why; and to the extent we can know, what role those notifications had in Petraeus's resignation.
Me too. Because once Clapper knew, the White House and the Senate leadership had to know. And at that point, Petraeus was exposed and humiliated. Maybe he resigned on his own, to spare his family, or maybe, as this Washington Post story claims, he did it because Clapper told him to. I don't feel sorry for Petraeus or Broadwell. But I do have sympathy for their spouses and children, who are being dragged through the worst sort of tabloid mess. And like I said at the outset, I also worry about why the FBI started down this whole road and about high government officials being toppled by private sexual affairs. Maybe Petraeus and Allen deserve to lose their jobs for their idiotic use of email, given how sensitive their positions were/are. But that doesn't address all the dismaying, unanswered questions about this investigation.
201211131356, Stop Judging, You Prudes
By Katie Roiphe|Posted Tuesday, Nov. 13, 2012, at 1:56 PM ET
The real reason we care so much about the Petraeus affair.
Why are we so interested in David Petraeus' affair with Paual Broadwell?
Photo by Spencer Platt/Getty Images.
In the unfolding affair of David Petraeus, it is difficult to separate the outsized fantasies of a puritanical nation from legitimate questions of national security.
We seem to be groping for hard, substantive reasons to justify our prurient interest and the general feeling that he was right to resign.
According to a Washington Post editorial, Petraeus was right to resign because he "recklessly used a Gmail account to send explicit messages." They explained further:  "Such behavior would not be acceptable in the private sector, or in the military." This is a flagrantly strange assertion, as recklessly using Gmail accounts to send explicit messages would seem to be not just acceptable, but pandemic in the private sector.  Should everyone who has sent an explicit message on Gmail leave their jobs, and if they did, would the work of the country ground to a halt? Would the Washington Post itself be able to put out a newspaper if they declared "unacceptable" that sort of "reckless" use of Gmail?  And if in fact, that reckless use of Gmail is so acceptable as to be banal, then what exactly did Petraeus do wrong?
The somewhat antiquated rationale behind his wrongdoing is that spies could be blackmailed if they have high stakes secrets like adulterous affairs. But what is the practical application of this concept? The notion that you could fill an entire government agency (let alone one filled with Men Who Keep Secrets) with men who have never cheated on their wives (and women who have never cheated on their husbands) is clearly absurd.
If what the public is truly concerned about is that Petraeus, because of his affair with Mrs. All In, would be vulnerable to blackmail by enemy spy services, then that concern should have dissipated once news of the affair was splashed across every tabloid in the world. Once everyone not living in a remote hut without wireless knew about the affair, those devious spies plotting their grand blackmail would have nothing to work with. Petraeus, and our country's secrets, would be safe.  So why should he need to resign after it all came out?
Our concern is not about military law, or the correct protocol of the CIA. Our concern is an unacknowledged prudishness, a stubbornly old-fashioned sense of family. Petraeus' resignation is not about actual concerns about his integrity as a leader, or any true concern about blackmail. The resignation is over something much murkier, and ambiguous, something that engages on the deepest level our most fantastical ideals of generals and leaders, of men in positions of power. It taps into a deeply conservative, 1950s picture of family life that has yet to adapt and evolve with the times. Adultery may be a crime, according to a military law that is apparently pretty spottily enforced and frequently disregarded. But that is no reason for the public to accept its premises, that there is some mysterious violation of law involved in all of this private sleaziness. It is not 1950, and we should not accept that adultery is a crime, any more than we accept that sodomy is a crime.
What we are seeing is the very pernicious downside of the '70s feminist truism: "The personal is political."  Gen. John Allen, for instance,  is now being investigated for "inappropriate communication" with another character from Petraeus' scandal, Jill Kelley. But is this really a felicitous use of our tax dollars? The weeding through emails for dirty passages? The scolding school-teacherish search for "inappropriate communication"? Isn't there some other more pressing use of all these resources, some matter of national security these agents could address? And perhaps more importantly, is this the country we want to live in?
In his resignation statement, Petraeus said: "After being married for over 37 years, I showed extremely poor judgment by engaging in an extramarital affair. Such behavior is unacceptable, both as a husband and as the leader of an organization such as ours." But the logic here is questionable: can a terrible husband be a great leader? History would of course be on the side of, "yes."
In a series of recent scandals, we seem to be having trouble separating public responsibility from private life, the breaking of marriage vows from the breaking of laws, a vague sense of wrongdoing from a rational assessment of the facts. Many news organizations seem very desperate to make the Petraeus affair about more than sex. Take CNN's headline "The Petraeus Affair: A Lot More Than Sex" for a piece that proceeds to dwell on sex and circle obsessively back to it.
In fact, if we are being honest, this is not even a "sex scandal." This is just sex.
Katie Roiphe, professor at the Arthur L. Carter Journalism Institute at New York University, is the author most recently of Uncommon Arrangements: Seven Marriages, and the forthcoming In Praise of Messy Lives
201211131535, Generals backed Kelley's sister in court
By ADAM GOLDMAN and JACK GILLUM, Associated Press, Nov. 13, 2012 3:35 PM ET
http://hosted2.ap.org/CBImages/?media=photo&contentId=a95fe6480086cb20200f6a706700d68d&fmt=jpg&Role=Preview&reldt=2012-11-13T19:56:18GMT&authToken=eNoNyjkOwCAMBMAXWVo7eDEFjyEcEl3KFDw%2bmXrOfCuvFEEvZhkAnXb6rq34mkwhQFD6bRADlrBl8I%2bDMc5%2bqihQNGdV%2fwAFLxNo
Jill Kelley looks out the window of her home Tuesday, Nov 12, 2012 in Tampa, Fla. Kelley is identified as the woman who allegedly received harassing emails from Gen. David Petraeus' paramour, Paula Broadwell. She serves as an unpaid social liaison to MacDill Air Force Base in Tampa, where the military's Central Command and Special Operations Command are located. (AP Photo/Chris O'Meara)
http://hosted2.ap.org/CBImages/?media=photo&contentId=92071ba5fd97be1f200f6a706700c4da&fmt=jpg&Role=Preview&reldt=2012-11-13T06:15:55GMT&authToken=eNoNyzsOACEIBcATkTxRQAoP4zex23ILD6%2f9zJl%2f0ZhyVnFmA6CifPouzrDQqtAabtRmWMTAIq0GfbCnUc%2f%2bisf4CnAB2G0TYw%3d%3d
FILE – This July 22, 2012, file photo shows U.S. Gen. John Allen, top commander of the NATO-led International Security Assistance Forces (ISAF) and U.S. forces in Afghanistan, during an interview with The Associated Press in Kabul, Afghanistan. The Pentagon says Gen. John Allen is under investigation for alleged "inappropriate communications" with Jill Kelley, the woman who is said to have received threatening emails from Paula Broadwell, the woman with whom former CIA Director David Petraeus had an extramarital affair. Defense Secretary Leon Panetta says the FBI referred the matter to the Pentagon on Sunday, Nov. 12, 2012. Panetta says he ordered a Pentagon investigation of Allen on Monday. (AP Photo/Musadeq Sadeq, File)
http://hosted2.ap.org/CBImages/?media=photo&contentId=818a8bd8e5deaf1f200f6a706700ec31&fmt=jpg&Role=Preview&reldt=2012-11-12T15:42:30GMT&authToken=eNoNyjEOwCAIBdATkXxQEAcPYxUTt44dPHx98zvxNUvZ3bSKFACiqmfs5uzdn%2bkUOoP64kUCLLJeYDfGSHz22yQjVVXGD%2flwE8Q%3d
Jill Kelley leaves her home Monday, Nov 12, 2012 in Tampa, Fla. Kelley is identified as the woman who allegedly received harassing emails from Gen. David Petraeus' paramour, Paula Broadwell. She serves as an unpaid social liaison to MacDill Air Force Base in Tampa, where the military's Central Command and Special Operations Command are located.
WASHINGTON (AP) – In the latest twist of the David Petraeus sex scandal, court records show the former CIA director and Gen. John Allen intervened last September in a messy custody dispute on behalf of Jill Kelley's sister, whom a judge described as dishonest and lacking integrity.
Kelley is the woman who received harassing emails from Petraeus' biographer and paramour, according to U.S officials. She also is thought to have exchanged flirtatious communications with Allen, the top U.S. commander in Afghanistan. Pentagon investigators are now examining Allen's relationship with Kelley.
The new court files are significant because they provide of a fuller picture of the twins' connections to Petraeus and Allen, two powerful figures ensnared in the scandal. It also raises questions why two decorated generals would vouch for Kelley's twin sister, Natalie Khawam, who had piles of legal troubles in recent years.
Petraeus resigned Friday as CIA director after disclosures that author Paula Broadwell sent the emails to Kelley, who in turn went to the FBI, setting off a series of stunning revelations that have engulfed Washington just days after President Barack Obama was re-elected.
Both Allen and Petraeus wrote letters in September supporting Khawam in her ongoing fight to keep custody of her son, D.C. Superior Court records show. Allen met Khawam, 37, when he was deputy commander of U.S. Central Command in Tampa, where they attended social functions. Petraeus said he met Khawam three years ago through Kelley.
Both men said she was a loving mother and asked the judge in the case to drop onerous visitation restrictions. "In light of Natalie's maturity, integrity and steadfast commitment to raising her child, I humbly request your reconsideration of the existing, mandated custody settlement," Allen said.
But Superior Court Judge Neal Kravitz a year earlier criticized Khawam for her behavior and said her "misrepresentations about virtually everything" would continue.
"Ms. Khawam appears to lack any appreciation or respect for the importance of honesty and integrity in her interactions with her family, employers and others with whom she comes in contact," he wrote in November 2011.
Not only did the judge in the case award her ex-husband custody last year of their 3-year-old son, John, but he also told Khawam to pay his legal bills amounting to $350,000. Khawam filed for Chapter 7 bankruptcy in April after racking up more than $3 million in debt, according to federal court records.
The status of her most recent custody appeal was not immediately known.
Khawam did not respond to requests for comment Tuesday.
Her relationship with her ex-husband, Grayson Wolfe, grew to levels of remarkable acrimony as detailed in court papers. She made repeated claims of abuse, which the judge called "an ever-expanding set of sensational accusations" against Wolfe that were "numerous," "extraordinary," and, "so distorted that they defy any common sense view of reality."
One case included a visit to Children's National Medical Center in December 2011 – a month after the judge granted custody to Wolfe – to treat alleged bruises to the child's nose and finger, hospital records show. Khawam told doctors her son complained of Wolfe hitting him, but court records show the child later recanted his statement. Wolfe's lawyer said the abuse report was a fabrication.
All told, it was a very different dynamic than what the two generals said they witnessed.
"We have seen a very loving relationship – a mother working hard to provide her son enjoyable, educational and developmental experiences," Petraeus said in September, referring to when he hosted the family for Christmas dinner. "It is clear to me that John would benefit from much more time with his mother and from removal of the burdensome restrictions imposed on her when she does get to spend time with him."
Contact the Washington investigative team at DCinvestigations (at) ap.org
Follow Goldman on Twitter at http://twitter.com/adamgoldmanap and Gillum at http://twitter.com/jackgillum
Associated Press
Copyright 2012 The Associated Press. All rights reserved. This material may not be published, broadcast, rewritten or redistributed.
201211131614, Instead of "Dead Dropping," Petraeus and Broadwell Should Have Used These Email Security Tricks
Email Security Tricks To Hide Your Affair From Absolutely Everyone
Future Tense: Instead of "Dead Dropping," Petraeus and Broadwell Should Have Used These Email Security Tricks
By Ryan Gallagher, Tuesday, Nov. 13, 2012, at 4:14 PM ET
138008333.jpg.CROP.article568-large.jpg
Then-CIA Director David Petraeus testifies before the US Senate Intelligence Committee in January 2012
Photo by KAREN BLEIER/AFP/Getty Images
Having an extramarital affair in 2012 is not an easy task if you're the chief of the world's most renowned spy agency. To communicate with your mistress you can set up a Gmail account under a pseudonym, even adopt tactics favored by terrorists to avoid email interception. But your digital trail can still be traced-as philandering former CIA director David Petraeus recently discovered.
Just in case you're reading this after awaking from a coma: Petraeus was caught out having an affair with Paula Broadwell, his biographer, following an FBI investigation into harassing emails allegedly sent by Broadwell using a pseudonym to another woman. The FBI's cyber-crime unit reportedly traced the emails to Broadwell with the help of Gmail metadata (presumably such as IP addresses) and began monitoring her accounts. While Broadwell was under surveillance, the agents apparently discovered that she and Petraeus were sending each other sexually explicit messages using private Gmail accounts. Petraeus was reportedly using a pseudonym, so the agents did not immediately realize it was him. But eventually, somehow, they made the connection.
Much of what is known remains deeply murky and is still unfolding. However, interesting details about how Petraeus and Broadwell apparently tried to prevent their communications from being picked up are trickling out. Not only were they using pseudonyms, but they were using a method known in the intelligence community as the "dead drop," a tactic favored by terrorists trying to evade government surveillance of communications networks. Before the Internet, dead drops, often used by spies, would involve hiding a written message or package in a secret location or letterbox that only your fellow operatives would know about. According to a revealing AP report quoting an anonymous U.S. official yesterday, Petraeus and Broadwell used a higher-tech version of the dead-drop technique: "Rather than transmitting emails to the other's inbox, they composed at least some messages and instead of transmitting them, left them in a draft folder or in an electronic 'dropbox.' the official said. Then the other person could log onto the same account and read the draft emails there. This avoids creating an email trail that is easier to trace."
But Petraeus, as a spy chief, should probably have known better. Using the dead-drop tactic can certainly reduce the chances that sweeping surveillance dragnets will gobble up your communications-but it is not exactly secure. The method was used by the planners of the Madrid train bombings in 2004, which killed 191 people, helping them to operate below the radar of Big Brother. However, law enforcement agencies over the years have grown accustomed to terrorists using the dead drop, and technologies have been developed to help counter it.
An interception tool developed by the networking company Zimbra, for instance, was specifically designed to help combat email dead drops. Zimbra's "legal Intercept" technology allows law enforcement agencies to obtain "copies of email messages that are sent, received, or saved as drafts from targeted accounts." An account that is under surveillance, with the help of Zimbra's technology, will secretly forward all of its messages, including drafts, to a "shadow account" used by law enforcement. This may have been how the FBI was able to keep track of all correspondence being exchanged between Petraeus and Broadwell.
(It's also worth noting that archived draft emails stored alongside sent and received messages on Google's servers can actually be obtained by law enforcement with very little effort. Due to the outdated Electronic and Communications and Privacy Act, any content stored in the cloud can be obtained by the government without a warrant if it's older than six months, as Wired reported last year.)
What this means is that if Petraeus and Broadwell had been savvy enough to use encryption and anonymity tools, their affair would probably never have been exposed. If they had taken advantage of PGP encryption, the FBI would have been able to decipher their randy interactions only after deploying Trojan-style spyware onto Broadwell's computer. Further still, if the lovers had only ever logged into their pseudonymous Gmail accounts using anonymity tools like Tor, their real IP addresses would have been masked and their identities extremely difficult to uncover.
But then it is unlikely that they ever expected to come under FBI surveillance. Their crime was a moral one, not a felony, so there was no real reason to take extra precautions. In any other adulterous relationship a pseudonym and a dead drop would be more than enough to keep it clandestine, as my Slate colleague Farhad Manjoo noted in an email.
Broadwell slipped up when she sent the harassing emails-as that, as far as we know, is what ended up exposing her and Petraeus to surveillance. Whether the harassment was serious enough to merit email monitoring is still to be established, as Emily Bazelon writes on "XX Factor." It goes without saying, however, that the real error here was ultimately made by Petraeus. If he had stayed faithful to his wife of 38 years in the first place, he'd still be in charge at the CIA-and I wouldn't be writing about how he could have kept his adultery secret more effectively by using encryption.
201211131639, Burn After Petraeus
Brow Beat: Burn After Petraeus
How Burn After Reading Explains the Petraeus Affair
By Sam Adams, Tuesday, Nov. 13, 2012, at 4:39 PM ET
Frances McDormand, Paula Broadwell, David Petraeus, and Brad Pitt
Ever since G. Gordon Liddy dispatched his bungling burglars to the Watergate Hotel, it's been axiomatic in Washington that the cover-up is worse than the crime. But the Petraeus affair has yet to produce evidence of either, just a rapidly unraveling skein of backstabbing and petty jealousies. (The New Yorker's Ben Greenman tweeted that the scandal was "threatening to blow the lid off human nature.") As the revelations wildly pour forth, the affair just grows sadder and more sordid. The indiscretions that felled one of the country's most esteemed military leaders and may take down another have so far been traced back to a shirtless himbo with an ideological hard-on attempting to stage a one-man October surprise.
In an era when the cost of interagency sniping is American corpses, the apparent vendetta of one FBI agent against the CIA's top dog seems a sick joke-which may be why Joel and Ethan Coen's pitch-black satire Burn After Reading suddenly seems so relevant. As David Haglund has noted here on Brow Beat, the movie has traditionally been little-loved among Coens aficionados, but perhaps that's because its fans are disproportionately clustered in the political class. As journalists and pundits struggled to find a real-life analogue for the confluence of petty vendettas and seismic consequences, many turned to the Coens' acidic farce. Salon's Alex Pareene likened the still-unnamed FBI agent to Brad Pitt's hapless would-be blackmailer, while the Wall Street Journal's Bruce Orwall suggested the affair was beginning to resemble the movie's unasked-for sequel.
Although Burn After Reading is superficially frivolous, even silly, its outsize caricature masks a profound pessimism about the state of the nation, particularly of its citizens' ability to rise above their own basest impulses. The sprawling conspiracy that eventually results in the death of two innocents begins with a narcissistic health-club employee (Frances McDormand) who's short of the cash needed for cosmetic surgery. And she's hardly the only character consumed with vanity. George Clooney's U.S. Marshal-a former T-Man whose duties included interfacing with Homeland Security-is a serial philanderer who follows his afternoon trysts with a habitual jog. John Malkovich's Osborn Cox, cashiered as a CIA bureau chief for his persistent alcoholism, is working on a hagiographic memoir, effectively serving as his own Paula Broadwell. Their motives are more pitiful than sinister, but the harm they do is real, and bloody.
Few of Burn After Reading's characters are genuine spooks, but it hardly matters. When Cox's wife (Tilda Swinton) meets with a divorce attorney, he advises her to copy her husband's financial records before dropping the hammer, concluding, with a conspiratorial wink, "You can be a spy, too." If everyone is investigating everyone else, then no one is safe-and more importantly, there's no way to distinguish genuine threats from mere missteps. McDormand's character may be wrestling with her healthcare provider's voicemail prompt, but it's no accident that her increasingly frustrated calls of "Agent!" go unanswered.
As we sift through the wreckage of once-honorable lives, we search for some root cause beyond bruised egos and unchecked libidos, some moral to extract, thus far finding none. Perhaps the hardest lesson of Burn After Reading-one that drives most moviegoers away, but appeals to those who watch history repeat itself in stunned circles day after day-is that we're not bettered by our errors, that we stubbornly and stupidly insist on repeating them and will until the day we cease to exist. "What did we learn, Palmer?" J.K. Simmons' Agency chief asks in the film's final scene, whose bleak absurdity borders on Samuel Beckett. "I guess we learned not to do it again… I'm fucked if I know what we did."
201211131659, 'Does your husband know you've been touching Petraeus under the table?' The cat-fight emails sent by Paula Broadwell to supposed love rival Jill Kelley
By Hugo Gye, 04:04 GMT, 13 November 2012 | UPDATED: 16:59 GMT, 13 November 2012
The mistress of shamed former CIA chief David Petraeus accused her supposed love-rival of touching him under the table and asked if her husband was aware of her actions, in a string of threatening emails.
Paula Broadwell's affair with Petraeus was exposed after she sent a series of messages to Florida socialite Jill Kelly, apparently warning her off her lover.
The messages, which have been described as 'kind of cat-fight stuff', had been sent anonymously to an account shared by Mrs Kelley and her husband, but FBI investigators traced them to Broadwell.
Scroll down for videos
'Cat-fight': Jill Kelley, left, allegedly received abusive emails from Paula Broadwell, right
Affair: David Petraeus is pictured with Paula Broadwell, his biographer and alleged mistress
In one of the emails from Broadwell to Kelley, she accused the Florida housewife of touching 'him' underneath a table and another email asked if Kelley's husband was aware of her actions, according to the Wall Street Journal.
In another, the biographer of the former CIA director was apparently aggressive towards Mrs Kelley, saying: 'Who do you think you are?'
She also accused the socialite, a Petraeus family friend, of 'parad[ing] around the base', adding: 'You need to take it down a notch.'
Kelley has denied being any more than friends with Petraeus and released a statement saying: 'We and our family have been friends with Gen. Petraeus for over five years.
'We respect his family's privacy and want the same for us and our three children.'
It also emerged today that Broadwell sent an email anonymously to General John Allen, who has been accused of swapping thousands of 'inappropriate' emails with Kelley. It was traced back to Petraeus' mistress and he discussed it with Kelley, it is claimed.
The revelation comes as a team of FBI agents has descended on Broadwell's home and started removing boxes of household items.
It is unclear what investigators are doing at the house in Charlotte, North Carolina, and they have refused to comment on their latest probe into the writer.
Insult: A photograph in June 2011 shows Broadwell watching as Petraeus and his wife Holly arrive for a Senate Select Intelligence Committee hearing on Petraeus' nomination to be director of the CIA
Further questions about the FBI's role in the scandal, which saw Petraeus resign from the CIA last Friday, have been raised by the the revelation of the notorious emails' contents by the Daily Beast.
A source told the website the emails did not contain threats or references to the former general, but were instead vague expressions of hostility, taking aim at Kelley's roll as a 'social liaison' at MacDill Air Force Base in Florida.
When Kelley first reported the messages to a friend who works for the FBI, she did not regard them as a criminal matter, instead simply saying: 'I don't know who this person is and I don't want to keep getting them.'
And when investigators looked at the messages, many were unimpressed, according to the Beast's source – many simply concluded, 'There's no threat there.'
However, Kelley's friendship with an FBI agent apparently meant the bureau took the emails more seriously than they otherwise might have – and helped them uncover the months-long relationship between Broadwell and Petraeus.
Deception: Paula Broadwell is married to a radiologist, Scott Broadwell (left), and they have two young sons together, while Petraeus has been married to Holly for 38 years. They have two grown children
They launched a wide-ranging investigation, interviewing both the CIA director and his former lover, but eventually concluding that no crime or national security breach had been committed.
Petraeus offered his resignation on Thursday afternoon, and officially stepped down the next day.
It became clear within hours that Broadwell, who met the general in Iraq when she was researching a dissertation which would eventually become a full-length biography, was the woman with whom he had cheated on Holly, his wife of 37 years.
And on Monday evening it appeared that the FBI had reopened their investigation, as at least six agents visited her home – where she is not currently staying – and removed several boxes.
Kelley is a volunteer who organizes social events for military families in the Tampa area. She often hosts the events at her million-dollar Bayshore Boulevard home, which is located only a couple miles from MacDill Air Force base, where Petraeus was leader of the U.S. Central Command.
'The Kelley mansion became the place to be seen for coalition officers,' according to the Tampa Bay Times.
Kelley's husband, Dr. Scott Kelley, is a highly sought-after surgeon who specializes in a rare type of minimally invasive surgery to cure cancer of the esophagus.
Since the Kelleys have been in Tampa, one or both have been subjects of lawsuits nine times – including an $11,000 judgment against them that originated in Pennsylvania, according to the Tampa Bay Times.
VIDEO: FBI Searches Paula Broadwell's home
VIDEO: Jill Kelley steps out of her Tampa home, Monday
201211131709, Dear Prudence offers unsolicited advice to David Petraeus, Paula Broadwell, and others embroiled in the growing sex scandal
Prudie's Advice for Paula Broadwell, Jill Kelley, David Petraeus, and the Gang
Dear Prudence's Advice to David Petraeus, Paula Broadwell, Jill Kelley, and the Gang
Dear Prudence: A Cheater's Checklist
A Cheater's Checklist
By Emily Yoffe|Posted Tuesday, Nov. 13, 2012, at 5:09 PM ET
Gen. David Petraeus being sworn in as director of the CIA, with his wife Holly looking on, in 2011, shortly before his affair with Paula Broadwell supposedly began
Photo by MANDEL NGAN/AFP/Getty Images.
As Slate's Dear Prudence I've gotten many anguished emails from people caught in the various corners of romantic triangles. How I wish someone in the romantic octagon (it's blown past being a love "pentagon") that is the burgeoning Gen. David Petraeus sex scandal had turned to me for advice. This story has now consumed four marriages: that of Petraeus and his wife, Holly; Petraeus' biographer and other woman Paula Broadwell and her husband, Dr. Scott Broadwell; Paula Broadwell's perceived rival, Jill Kelley, and her husband, Dr. Scott Kelley; and now frequent Jill Kelley email correspondent Gen. John Allen, and his wife Kathy. (If you're a doctor named Scott, you might want to go check your wife's inbox.)
Sure, they haven't asked me, but I'm going to offer these suffering people unsolicited advice, and list some lessons for other would-be cheaters.
Spill All. I hold the truth in high esteem, but I also think there are occasions where it should be doled out judiciously. I often hear from people who, during the course of a long marriage, have strayed. Frequently they write because the dalliance was brief (if fun at the time), and now the cheater is consumed with regret and considering confessing to the spouse, who suspects nothing. Usually I say the penance should be living with your guilt. Confession of an affair, especially a short, meaningless one, is an unnecessary gut shot to your spouse.
But in the case of the four marriages at the center of this scandal, as in any situation where even a partial truth has been revealed, it's time to tell everything. Do a complete accounting of all infidelities; revelations dribbling out over time are torture. Once your spouse knows all, painful as it is, you have a basis for rebuilding trust.
Don't Put Descriptions of Your Lovers Private Parts, Your Genitals, or What You Would Like To Do With Them Someplace That Can Be Found. Both Gen. Petraeus and Paula Broadwell, with their training in intelligence, thought they were being really smart by using an email "drop box" to communicate their sexy missives to each other. If you're going to cheat, limit yourself to whispering in each other's ears-and nowhere else-just how big, firm, and luscious you or your partner is.
Avoid Going Nuclear. Jill Kelley is an alluring woman who attracts attention. Sure, it must have been disturbing when she received catty emails from an anonymous sender saying she was flaunting her assets around powerful men. (The sender of course turned out to be Paula Broadwell, who needs a Psych 101 refresher in "projection.") But going to the FBI seems like a serious overreaction. It will have been an especially poor choice if there is anything embarrassing in Kelley's own email history, which leads us to …
Flirting Is Not a Crime. We still don't know what Gen. Allen and Jill Kelley were saying when they exchanged emails over the past few years. According to the Washington Post, the initial reports of tens of thousands of exchanges (based on a misleading total-page estimate) is an exaggeration and their actual correspondence may have been in the hundreds. He's said to have called her "sweetheart," but the endearment is being explained as a Southern thing because Allen is from Virginia. It may all seem suspicious, but his staff is denying there was an affair. If that's the case, and Allen and Kelley just had a friendly, flirty relationship, then everyone should stand down, spouses and the military included. Let's not be so puritanical that we destroy people's lives and careers because they simply enjoy the company of someone of the opposite sex.
Don't Get Involved in People's Private Messes, Especially if They're Trading on Your Position. The latest shocker is that Jill Kelley's twin sister, Natalie, persuaded both Petraeus and Allen to write letters on her behalf regarding a vicious custody dispute she was in with her estranged husband. According to the New York Post, Natalie Khawam, who is a lawyer, lost custody of her young son in part for making false claims in court against her husband, accusing him of domestic and child abuse. The judge noted Khawam is "a psychologically unstable person." You could argue that generals in the United States military show some psychological instability themselves if they agree to get drawn into such a personal dispute.
Before You Hit "Send," Look at Some Photos of Your Kids. Paula Broadwell sends crazy, hostile emails to her perceived rival for Petraeus' affections. The FBI agent Jill Kelley turned to when she got these emails had been obsessed with Kelley and sent shirtless photos of himself to her. The head of the CIA reportedly wrote emails to Broadwell about their having sex under a desk. Before you hit "send," think about having to explain stuff like this to your kids.
Don't Throw It All Away. Maybe we'll find out that among Gen. Petraeus' superlatives is that he's the military's biggest horndog. But so far nothing even close to that has been revealed, and if it turns out the Broadwell affair was the general's only extracurricular, it should not be a marriage ender. I've gotten letters over the years from cheated-upon spouses who ask if they are fools for wanting to continue their marriage. Every case must be taken on its own merits, but if the cheating is not a pattern, and the cheater has come clean, is sincerely regretful, and wants to recommit to the marriage, then ending it could be the foolish thing.
Emily Yoffe is a regular Slate contributor. She writes the Dear Prudence and Human Guinea Pig columns. You can send Dear Prudence questions for publication to prudence@slate.com. (Questions may be edited.) Subscribe to Emily Yoffe's Facebook page.
201211131733, Why Generals Cheat
War Stories: Fred Kaplan on Why Generals Cheat
By Fred Kaplan|Posted Tuesday, Nov. 13, 2012, at 5:33 PM ET
David Petraeus
Photograph by Saul Loeb/AFP/Getty Images.
The job requires extreme self-confidence. And it helps to be a bit of a rogue.
I have never met an unassuming four-star general. If such creatures do exist, it's a safe bet that they're lousy at the job. This is worth keeping in mind when puzzling over the scandals of Gen. David Petraeus and, now it seems, his successor in Afghanistan, Gen. John Allen.
Consider what a general does, especially a commanding general in wartime: He sends his soldiers into battle, knowing that some of them will die as a result of his decisions. That is the nature of the job, and has been for millennia. That doesn't necessarily make generals bloodthirsty or immoral (I've met very few generals who fit that description), but it does require them to be supremely self-confident, even arrogant. When issuing their orders, they can't display the slightest sign of ambivalence or hesitation. If they did, they would soon lose confidence among the ranks, and the army that they're leading would fall apart.
Many leaders-not just in the military, but in politics, medicine, the corporate world, all realms of life-have a talent for compartmentalization. Still, there are limits to how far the human psyche can be stretched. It should be no surprise that, sometimes, when people assume such a lofty helm and such extreme levers of power, the sense of self-supremacy that goes with the job can extend to other realms of life.
This is why the U.S. military has such a harsh code of justice, why, for instance, adultery is a firing offense. It isn't just that the guardians of the code are prudes; it's that they know what power can do to someone-and thus they grasp the need to impose the temper of discipline. But codes are not perfect; human foibles occasionally slip through.
News of Petraeus' affair sent such massive shockwaves across the nation not just because he's so famous but also because he seemed like such a straight arrow. There was something mythic about Petraeus, more so than about any American officer in a generation. That was no accident; Petraeus spent years deliberately cultivating that myth.
As I write in my forthcoming book, The Insurgents: David Petraeus and the Plot to Change the American Way of War, he learned the art from two key mentors in his life, both of them generals: John Galvin and Marcel "Bruno" Bigeard. Galvin, a real hero during Vietnam (mainly for his refusal to falsify body counts), hired Petraeus as an aide-de-camp, then as a special assistant, in Latin America and Europe. Bigeard, whom Petraeus first met through correspondence, was the French army's most celebrated general (for his resistance at Dien Bien Phu, then his command in the battle of Algiers). Both men taught Petraeus that a great leader must weave a myth about himself-both to enhance the loyalty of his cadres and to build popular support for his mission. Petraeus learned the lesson well and applied it with skill and vigor.
Petraeus was a genuinely talented general: intellectually agile, strategically minded, and tactically bold. But the myth-making enshrined him, in the eyes of many, as an icon. It's hard to imagine that he remained entirely immune to the adoration.
It's also worth noting that some of his greatest achievements during the Iraq war were the result of going a bit rogue. Early in the occupation, as commander of the 101st Airborne Division, he brought order to the northern city of Mosul by applying principles of counterinsurgency theory-creating a new political system, vetting candidates, providing economic services, opening the border to Syria-entirely on his own initiative. Later, when he became commander of U.S. forces in Iraq, he launched raids on Muqtada al-Sadr's Shiite militia, the Mahdi army, without telling Prime Minister Nouri al-Maliki that he was doing so. (Petraeus' predecessor, Gen. George Casey, had complied with Maliki's orders to leave Sadr alone.) Finally, as the Sunni Awakening emerged in Iraq's western provinces, Petraeus recruited thousands of ex-militants into the Sons of Iraq, without telling anyone in Washington that he was paying them with U.S. Army funds.
These were all bold gambles of generalship that paid off. But they may also have instilled a growing sense that he could make his own rules, that he could get away with almost anything-even something that no one thought he would ever be tempted to try.
Fred Kaplan is Slate's "War Stories" columnist and author of the forthcoming book, The Insurgents: David Petraeus and the Plot to Change the American Way of War. He can be reached at war_stories@hotmail.com.
201211131822, Your Primer on the Petraeus Scandal's Growing Cast-Now With Twins!
Karl Rove tweeted a photo of himself and Broadwell
A Guide to the Key Players in the Petraeus Affair
By Josh Voorhees, Tuesday, Nov. 13, 2012, at 6:22 PM ET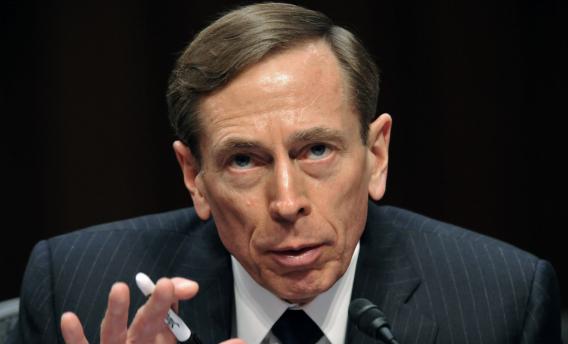 David Petraeus, testifies before the U.S. Senate Intelligence Committee on Jan. 31, 2012
Photograph by Karen Bleier/AFP/Getty Images.
[This post was originally published at 10:30 a.m. We will continue to update with more info as the story develops.]
The cast of characters in the widening scandal that brought a stunning end to the storied career of all-around national security powerhouse David Petraeus last week continues to grow. Tuesday morning introduced us to the Marine who replaced the retired four-star general as commander of NATO troops in Afghanistan last year, and, um, a shirtless FBI agent. Then the news gods-apparently sensing the only thing this story was missing-delivered their latest gift that afternoon: a twin sister.
This thing is getting more complicated by the day so, with that in mind, below you'll find our best effort at keeping all the characters straight, from Petraeus himself all the way down to the journalists who broke the story-and those who didn't.
THE MAIN PLAYERS, in order of appearance:
David Petraeus: The chief protagonist in this increasingly bizarre story. He is a retired four-star Army general who became the director of the CIA in September 2011 after a long and accomplished military career that included stints as commander of U.S. and international troops in Iraq and, more recently, Afghanistan. He resigned from his post at the CIA last Friday after admitting to showing "extremely poor judgment by engaging in an extramarital affair."
Paula Broadwell: The woman with whom he was having an affair, and the author of All In: The Education of General David Petraeus, the recent hagiographic biography that, in hindsight, reads something like a love letter to the general. She, like Petraeus, graduated from West Point. They first met in 2006 when he came to give a talk about counterinsurgency strategy at Harvard, where she was a graduate student. She decided to write a Ph.D. dissertation on his leadership style and, once he took command in Afghanistan in the summer of 2010, asked if she could come observe him in action. He agreed. According to Petraeus' inner circle, their affair didn't begin until late 2011, roughly two months after Petraeus was named CIA director.
Jill Kelley: A Florida woman who has increasingly found herself at the center of this story. She, along with her husband, became friends with Petraeus and his wife, Holly, when the general was the head of the military's Central Command in Florida, his last post before being sent to Afghanistan. She volunteers to help injured service members and their families at the Tampa base, where she also serves as something of an unofficial (and perhaps self-appointed) social coordinator/liaison for senior military leaders. Kelley allegedly began receiving harassing emails, sent anonymously, in May accusing her of inappropriate flirting with Petraeus. Concerned about the tone of the threatening messages, she sought help from a friend in the FBI.
The Unnamed FBI Agent: A friend of Kelley who she went to with her concerns about the anonymous emails. The agent then referred the case to the bureau's cyber crimes unit for further investigation. Federal investigators traced the harassing emails to Broadwell and, from there, eventually turned up the sexually explicit emails that Broadwell and Petraeus had been exchanging. The unnamed agent's story doesn't end-or begin-there, however. He was reportedly removed from the FBI case this summer after his superiors grew concerned that he had become obsessed with the matter. Thing that didn't help his case that he wasn't? The fact that he'd allegedly sent shirtless photos of himself to Kelley at some point before the investigation began, something investigators discovered only after they began digging around email accounts.
John Allen: The current commander of U.S. and NATO troops in Afghanistan, and the latest military official to become embroiled in the scandal. The Pentagon announced early Tuesday that the FBI probe has expanded to included Allen after investigators uncovered tens of thousands of pages worth of emails that contain "potentially inappropriate" communication between Allen and Kelley. Allen succeeded Petraeus as Afghan commander and previously served as his deputy when both generals led the military's Central Command from 2008 until 2010. The Pentagon has so far stayed mum on the exact nature of the emails and Kelley's alleged relationship with Allen. The White House, meanwhile, has stood by Allen, with spokesman Jay Carney telling reporters Tuesday afternoon that President Obama continues to have "faith" in the general.
THE SPOUSES:
Holly Petraeus: Gen. Petraeus' wife of 38 years. The couple met in 1973 when he was a West Point cadet and her father was the military academy's superintendent. The Washington Post sums her up like so: "The daughter of a four-star general who can trace her family's military service to the Civil War, Holly endured long separations from her husband during his repeated deployments overseas." She's not just a military spouse, however. She also serves as the assistant director for the Consumer Financial Protection Bureau, where she investigates consumer complaints from U.S. service members.
Scott Broadwell: Paula Broadwell's husband and a Charlotte-area radiologist. According to the Charlotte Obsever, the pair met in Germany where both were training to become ski patrollers. The couple have two sons together.
Scott Kelley: Jill Kelly's husband and a Tampa-area doctor who heads the Esophageal Oncology and Surgery at the H. Lee Moffitt Cancer and Research Institute. He has three children with Jill, and together they reportedly launched what apears to be a questionable charity that used most of its money on entertainment expenses.
BONUS RELATIVE:
Natalie Khawam: Jill Kelley's twin sister, who in the words of ABC News "also became friendly with major players, including both Gen. Petraeus and Gen. John Allen." According to the Associated Press, both Petraeus and Allen "intervened last September in a messy custody dispute" on Khawam's behalf, writing letters in support of her bid to gain custody of her son. The four-star generals' efforts, however, didn't amount to much: Not only did Khawam's ex-husband ultimately win custody, the judge also told her to pay her ex's $350,000 legal bill.
OTHER MINOR CHARACTERS:
David Reichert: A Republican congressman from Washington who was reportedly contacted by the unnamed FBI agent after he was barred from working on the case. Reichert then connected the agent with House Majority Leader Eric Cantor.
Eric Cantor: A Republican congressman from Virginia who spoke with the unnamed FBI agent about his concerns on Oct. 27. Cantor then had his chief of staff reach out to FBI Director Robert Mueller, but the communication between the two offices appears to have ended there.
Steve Boylan:  A former spokesman for Gen. Petraeus who is doing some unofficial damage control for his former boss. Speaking to ABC News on Monday, the Army colonel said that Petraeus was "devastated" both because of the "pain this has caused his family" and because he "had a huge job and he felt he was doing great work and that is all gone now." He also said that Petraeus described his wife's emotional state to him over the weekend like so: "Furious would be an understatement."
Joseph Dunford: The assistant commandant of the Marine Corps and the man who President Obama tapped to replace Allen as the head of the Afghan command even before this scandal broke. (Allen, meanwhile, had simultaneously been nominated to become the chief of the U.S. military's European Command and NATO's Supreme Allied Commander in Europe.) Dunford's confirmation hearing in front of the Senate Armed Services Committee had already been scheduled for this Thursday before Allen's possible involvement in this story became known.
THE MEDIA:
Vernon Loeb: The Washington Post editor who ghostwrote All In. Loeb had remained silent on the scandal until late Monday when he published a first-person account on the Post's website explaining that Broadwell had complete control over the biography's narrative and that he had no inkling that she would go on to have an affair with her subject. "On rare occasions, her good looks and close access would prompt a colleague to raise an eyebrow about their relationship, but I never took it seriously," he wrote.
Andrea Mitchell: The NBC News correspondent who broke the story of Petraeus' resignation shortly before the White House confirmed it.
Fred Kaplan: The Slate columnist who broke the story that it was Broadwell with whom Petraeus was having an affair.
Chuck Klosterman: The pop-culture-critic-turned-ethical-advice-columnist who answered a letter in his New York Times Magazine column back in July that bore a striking resemblance to what may have been going on in Scott Broadwell's head this summer. The magazine and Klosterman, however, have since said that, to the best of their knowledge, they have no reason to believe the letter came from Broadwell, providing the only disappointment to date for those hungry for juicy twists and turns in this still-developing story.
Jon Stewart: One of several people to interview Broadwell during her book tour earlier this year, and the self-described "worst journalist in the world." We'll let him explain (the best bit starts at around the 2-minute mark):
All right, there you have it. For now, at least. We'll continue to update as more info become available.
***Follow @JoshVoorhees and the rest of the @slatest team on Twitter.***
201211131806, UPDATES Petraeus-Broadwell-Allen-Kelley_ A running tab on the major and minor developments of the Petraeus story
Kelley Tried To Stop FBI Probe Over Own Privacy Fears
Report: Kelleys Have History of Money Woes
The Plot Thickens: A Running Tab on the Bizarre Drip, Drip, Drip of the Petraeus Affair
By Josh Voorhees, Tuesday, Nov. 13, 2012, at 6:06 PM ET
113252376.jpg.CROP.article568-large.jpg
David Petraeus and Marine Corps Gen. John Allen (R) seen in 2011 as President Obama announced his nomination of Petraeus to lead the CIA and Allen to succeed Petraeus as leader of the U.S. command in Afghanistan
Photo by Chip Somodevilla/Getty Images.
Thanks to the general nature of the Web and Twitter, the ongoing story of what we're going to call the David Patraeus Scandal (for a lack of a better name) is spilling out in increments, a not-so-slow drip, drip, drip in the form of scoops and scoop-lets delivered in more or less the same breathless tone as all those that came before.
All those pun-filled tweets and headlines can make it mighty hard to keep track of the latest newsy nuggets, be they major (the temporary postponement of a confirmation hearing) or minor (a found ID belonging to one of the partipants). With that in mind, we'll keep a running tab below on the noteworthy developments that can't find a home elsewhere in Slate's coverage of the affair.
But first, don't forget we've got a handy cheat sheet (no pun intended) here listing all the major and minor players in the ongoing saga-from Petraeus himself to the shirtless FBI agent who set the investigation that cost him his job in motion.
EASY TO START, NOT SO EASY TO STOP: The Wall Street Journal:
On Tuesday, people familiar with the case said that at one point in the summer, after the investigation began pointing to larger potential national security issues, Ms. Kelley tried to get the FBI to drop the matter. The people said she made the request because she was worried about the personal information being provided to investigators.
Ms. Kelley, a 37-year-old volunteer who organized social events for military personnel, developed misgivings after friends in her Tampa social circle urged her to drop the matter, saying the probe would only cause bigger problems, the people familiar with the case said.
Ms. Kelley's apparent regret points to one of the more unusual aspects of the case: what began as a seemingly minor case of cyberstalking mushroomed into fears that the Central Intelligence Agency director's personal email account had been hacked, which spawned concerns the CIA director might have passed sensitive information to his mistress.
AN EARLY END TO ROMANCE: Slate's Hanna Rosin via the Washingtonian:
Paula Broadwell and her husband Scott did in fact enjoy their romantic Friday night dinner at the Inn at Little Washington, following a romantic weekend out of an ad for the Virginia tourist association: hikes, bike rides, and a room at the romantic Middleton Inn. …
Just to get the timeline straight, Slate broke the name of Petraues' mistress on Friday evening, just around the time when the couple would have been sitting down to dinner. It's possible that they made a rule to keep their phones back in the room of another inn where they were staying, and had no idea her name had become public. If not, how could they possibly have made it through dinner without someone emailing Broadwell and telling her what was up? …
The Washingtonian also reports that when they checked into the inn, her husband had a bottle of Champagne and a bouquet of pink roses and white lilies waiting to mark her 40th birthday. And then they checked out "earlier than expected" on Saturday morning and Scott Broadwell was described as "not talkative."
CHARACTER WITNESSES: The Associated Press:
Court records indicate that Petraeus and Allen intervened last September in a messy custody dispute on behalf of Jill Kelley's sister. Both four-star generals wrote letters supporting Kelley's twin sister, Natalie Khawam, in a custody battle over her son.
Not only did the judge in the case award her ex-husband custody last year of their 3-year-old son, John, but he also told Khawam to pay his legal bills amounting to $350,000. Khawam filed for Chapter 7 bankruptcy in April after racking up more than $3 million in debt, according to federal court records.
CHARITY IN NAME ONLY: The Huffington Post:
Jill Kelley … founded a questionable charity for cancer patients with her surgeon husband, Scott Kelley. Based out of the couple's mansion, the Doctor Kelley Cancer Foundation claimed on its tax forms that it "shall be operated exclusively to conduct cancer research and to grant wishes to terminally ill adult cancer patients."
From the records, it appears that the charity fell far short of its mission. While the origins of the seed money used to start the charity in 2007 are unclear, financial records reviewed by The Huffington Post reveal that the group spent all of its money not on research, but on parties, entertainment, travel and attorney fees.
A CALL FOR HELP: Fox 13 out of Tampa:
The South Tampa woman connected to the Gen. David Petraeus scandal has called police to her home several times in the last few days, and at least once tried to invoke "diplomatic protection."
Media from around the world have convened on the two-story Bayshore Boulevard home of Scott and Jill Kelley. … Two 911 calls were made from the Kelleys' home on Sunday.  In the first recording, a man whose name was redacted says there is someone at the door who won't leave his property.  The second caller, who identifies herself as Jill, says there's someone lurking in their yard.
WHITE HOUSE WEIGHS IN: The New York Times:
President Obama has faith in Gen. John R. Allen, the top American and NATO commander in Afghanistan, the White House spokesman said on Tuesday, after it was disclosed that the general was under investigation for what the Pentagon called "inappropriate communication" with the woman whose complaint to the F.B.I. set off the scandal involving David H. Petraeus's extramarital affair.
"The president thinks very highly of General Allen," the spokesman, Jay Carney, said at a White House news briefing. "He has faith in General Allen," and believes that he has done "an excellent job" as commander in Afghanistan, Mr. Carney added. General Allen's recent nomination to become the supreme allied commander in Europe, Mr. Carney said, is delayed at the request of Defense Secretary Leon E. Panetta pending the investigation's outcome.
FOUND DRIVERS LISCENCE: U.S. News:
The woman revealed to have been carrying on an affair with former CIA Director David Petraeus lost her driver's license in a Washington, D.C., park recently, sources tell U.S. News.
A Maryland National Capital Park Police spokesman confirmed that a jogger found a North Carolina license in Rock Creek Park belonging to Paula Broadwell. Park Police planned to hold it for 90 days, per policy, and then send it back to the North Carolina Department of Transportation.
Elsewhere in Slate: Katie Roiphie on why this whole thing isn't even a "sex scandal." It is just sex. And Amanda Marcotte on why it barely merits the word "scandal." And:
War Stories: Fred Kaplan on Why Generals Cheat
Dear Prudence: A Cheater's Checklist
Future Tense: Instead of "Dead Dropping," Petraeus and Broadwell Should Have Used These Email Security Tricks
TNC: Paula Broadwell-Petraeus Affair Was Briefly on Wikipedia in January
XX Factor: What We Don't Know About the Petraeus Scandal: Questions for the FBI
Brow Beat: Burn After Petraeus
201211131921, Who Is Paula Broadwell's Husband?: Bio and Photos of Dr. Scott Broadwell
7:21 pm ET November 13, 2012
broadwell-husband-500×415.jpg
Holly Petraeus wasn't the only spouse whose world more than likely flipped on its axis late last week when the affair between her husband, General David Petraeus, and biographer Paula Broadwell became public. Broadwell herself is also married, and the mother of two young children.
Below is a little background info on her husband, Dr. Scott Broadwell:
Graduated from the George Washington University medical school
Did his Residency training at the University of Colorado School of Medicine in Diagnostic Radiology
Broadwell met his wife, Paula, when the two were in the military and stationed in Germany.
She told The Observer that they were both training to become ski patrollers, and described herself and her husband as 'adventure junkies.'
After they married, they decided that they would take turns choosing where to live
They moved to Charlotte about three years ago with their two young sons, Lucien and Landon
Dr. Broadwell took a job with a medical group in the city.
201211132031, Why the Petraeus scandal isn't the national security scandal Republicans wanted
General Confusion
By David Weigel|Posted Tuesday, Nov. 13, 2012, at 8:31 PM ET
Gen. Petraeus with Paula Broadwell in 2011
Photo by ISAF via Getty Images.
It began with one FBI agent and no shirt. The downfall of CIA Director David Petraeus started in May, in Tampa, when a freelance military party planner named Jill Kelley grew fed up with some harassing emails she'd been getting from Petraeus' alleged mistress, Paula Broadwell. Kelley contacted an FBI agent, a friend so close that he had "sent shirtless photos to her." She got results, sort of, as the agent opened a cybercrimes investigation into the emails.
And then the story got to Washington. The agent was "barred from the case" because, even when clothed, he seemed too obsessed with it. He called Rep. Dave Reichert, a Republican whose district in the Seattle suburbs is three times zones away from Tampa. Reichert routed the agent to Rep. Eric Cantor, the majority leader in the House, to speak to someone about an issue that might have compromised classified information. On Oct. 31, four days after the contact, Cantor took the story to FBI Director Robert Mueller. By that time, both Petraeus and Broadwell had already been interviewed by the bureau.
Why did the agent take this story to Republicans? According to the New York Times, the agent had an unspecified "worldview" that led him to suspect "a politically motivated cover-up to protect President Obama." As of today, he's totally alone in that. Republicans don't want to speculate about the Petraeus scandal. They resent that it's coming up. They want to focus on the Sept. 11 killings in Benghazi-which they fear has been covered up in a politically motivated plot to protect President Obama.
On Tuesday, the first post-election day of House and Senate votes, Republicans and Democrats gritted teeth and tried to get past the story. Neither Reichert nor Cantor added anything to the public record when asked. As the Senate held a roll call vote on a "sportsmen's bill," Intelligence Committee Chair Dianne Feinstein shrugged off new versions of old questions. Would the disgraced Petraeus appear before the Benghazi inquiry? "If not this week, then another week." Did the alleged affair endanger national security? "I don't know." Feinstein punched the button that could take her out of the scrum. "Elevator, where are you?"
Before this story broke, the Benghazi investigation had been relatively uncomplicated. On Tuesday, a closed-door briefing would bring the acting CIA director together with Senate Intelligence committee members. On Wednesday, the House Select Committee on Intelligence will get a similar briefing. On Thursday, the administration will reckon with the full House and Senate committees. Those meetings are proceeding as planned, but with the new, paparrazzi-ready trimmings of a sex scandal involving a freelance "military social liaison" who ran a fake "cancer charity" that blew its money on parties and piled up debts of her own as her sister dated the former governor of Florida.
"You're all asking questions today," said Sen. Pat Roberts of Kansas, the former Republican chair of the Intelligence committee, chiding the media for glomming on to a juicy story. "You disappeared before."
But "before" was during the election. At that time, Republican assertions about Benghazi were twinned with a critique of a president they wanted to defeat. According to Sen. John McCain, campaigning for Mitt Romney, the president effectively "allowed" the attack to happen and let four men die when "they didn't need to."
With the election over, they've tempered the criticism. After today's closed-door briefing, Sen. Marco Rubio said he wanted to hear more from Secretary of State Hillary Clinton, but went easy on the woman who might replace her, U.N. Ambassador Susan Rice. "Obviously she based those comments on information or directives that she had," he said, "and it's important to know what directives those were and who that information came from." It was a long way from "what did she know and when did she know it." As Sen. Jim DeMint exited the briefing, he said "we're getting to the bottom of it" and jumped on the Senate subway to be whisked elsewhere. Last month's bluster about Benghazi was mostly gone.
This can't be separated from the Petraeus story. The basic details, such as the use of Gmail drafts as a paramour message service, reveal an astounding lack of common sense and security from a man lionized by Republicans. Last month Republicans thought that Barack Obama's feckless team had failed Americans in Benghazi. Now they know that the FBI was on to Petraeus this summer, and that the director was talking to the bureau about an affair during the hottest stretch of the scandal.
Those facts are going to prompt more questions. Two House Republicans learned of a scandal that was ensnaring national security figures, and did not run to the press with it. An FBI agent managed to open a "cybercrimes" investigation for a woman who was remarkably abusive of other people's time and money. The overzealousness of the investigation paid off, in a way, but what precedent was set here? When I asked Sen. Roberts about the FBI agent's decision, he was as confused as anyone could be.
"It strikes me as …" He paused. "It doesn't add up. It doesn't make any sense. A lot of this doesn't make any sense."
David Weigel is a Slate political reporter. You can reach him at daveweigel@gmail.com, or tweet at him @daveweigel.
201211132039, The Most Unbelievable Details of the Petraeus Scandal (So Far)
The Scandal's Craziest Details (So Far)
A Guide to the Key Players in the Petraeus Affair
By Andrew McCarthy, Tuesday, Nov. 13, 2012, at 8:39 PM ET
David Petraeus returns from a break during a congressional on Capitol Hill on September 10, 2007
Photo by Chip Somodevilla/Getty Images.
There's plenty that we still don't know about the still-developing story of David Petraeus' affair with his biographer Paula Broadwell, and a potentially related e-mail relationship between Gen. John Allen and a Tampa socialite. What is clear, however, is that whatever it is that is unfolding before us is weird, and only getting weirder with each incremental development and new cast member that is thrust onto the public stage.
With that in mind, here's a quick rundown of some of the strangest and juiciest details-some simply coincidental or amusing, others decidedly lurid or newsworthy-that have combined to create the overall sense of intrigue that currently pervades this narrative.
Hindsight: Broadwell had made a string of media appearances earlier this year to promote her book that are incredibly awkward in retrospect, including a double entendre-filled segment on The Daily Show. She then went one better during a February interview, declaring that she was "not in love with David Petraeus" seemingly without provocation.
The Shirtless FBI: After receiving anonymous, threatening emails about her contact with Petraeus, Tampa socialite and Petraeus friend Jill Kelley turned to an FBI agent she knew for help. That agent, however, was later barred from the investigation in part because he had allegedly sent shirtless pictures of himself to Kelley at some point before the FBI probe began.
Classified Info: When the FBI traced the emails back to Broadwell, they found classified documents and information on her personal computer. It's not clear where she got these documents, but both Petraeus and Broadwell have denied they came from him.
Naughty Neighborhood: Paula Broadwell and Rielle Hunter (John Edwards' mistress') both live in the upscale Dilworth neighborhood of Charlotte, N.C.
Karl Rove: GOP strategist Karl Rove tweeted a photo of himself and Broadwell together in June.
High-Powered Lawyer: Jill Kelley, who claims total innocence of wrongdoing, has made some high-profile hires. She has retained D.C.-based lawyer Abbe Lowell, who has represented President Bill Clinton, John Edwards, and Jack Abramoff during their times of need, along with PR specialist Judy Smith, whose client list includes Michael Vick, Monica Lewinsky, and Kobe Bryant.
Scott Squared: Paula Broadwell and Jill Kelley are both married with young children to doctors named Scott.
Not One General But Two: Jill Kelley allegedly exchanged 20,000 to 30,000 pages of "potentially inappropriate" emails with a four-star general. Only the general in question wasn't Petraeus, but instead Gen. John Allen, a close friend of Petraeus who had recently been nominated by President Obama to be Supreme Allied Commander Europe and commander of the U.S. European Command. That nomination has since been put on hold.
Twins: Petraeus and Allen both assisted Jill Kelley's identical twin sister, Natalie Khawam, in her bitter custody battle during which she was deemed psychologically unstable. They both wrote gushing letters on her behalf, asking for the judge to grant her custody of her only son. Oh yeah, and Khawam is a Georgetown Law grad who works on whistleblower cases.
Legal Trouble: Kelley is no stranger to legal trouble herself. She and her husband have been charged in nine different lawsuits over the course of the last few years. At one point, they reportedly owed more than $2.2 million to the bank, and had rung up large credit card bills.
Food Fight: Kelley and Khawam have found themselves in front of a camera before, but under more friendly circumstances. They both appeared together in an episode of the Food Network's Food Fight, during which they cooked alligator, competing against a set of twin brothers.
Lost ID: Paula Broadwell's driver's license was recently found by a jogger in a Washington, D.C.'s Rock Creek Park. Her lawyer will not confirm her whereabouts as of late Tuesday afternoon.
201211132218, Paula Broadwell Is Staying in Mount Pleasant
Posted by Jonathan L. Fischer on Nov. 13, 2012 at 10:18 pm
jfischer@washingtoncitypaper.com
http://twitter.com/jon_fischer
Here's an easy explanation for the latest weird development in the broadening scandal that forced the resignation of CIA chief David Petraeus last week: Alleged Petraeus mistress Paula Broadwell's North Carolina driver's license was found recently in Rock Creek Park because, apparently, she is staying in Mount Pleasant.
That, anyway, is what the camera crews stationed outside a house on Park Road NW believe-a cameraman from ABC told me he's been there since about 3 p.m. today. They said they spotted Broadwell eating dinner earlier in the evening. Some media accounts have placed Broadwell, 40, whose maiden name is Kranz, at the home of her brother; D.C. public records show the Park Road residence belongs to Stephen Kranz, 45.
Standing in the alley behind the home around 8:45 p.m., two of the cameraman started filming suddenly when a woman entered the home's kitchen. (I'll admit that in the dark, I couldn't tell if it was Broadwell. But an Associated Press photographer got this shot of a woman who is clearly her.) In front of the house, another ABC cameraman and one from WUSA9 were debating how invasive is too invasive when filming a person of interest in a private home (they were both on the side of not getting too invasive). I was getting cold, and several people in my Twitter feed who'd seen the Instagram of the home that I'd posted were accusing me of stalking. So I headed home, abandoning the TV crews there to sit until someone back at their bureaus decided to be merciful and let them do the same.
My friend asked a man who was walking his dog what he thought about the small gathering of cameramen. It's pretty funny, the man said.
The man remarked that the home is notable for another reason. It's the Kraemer House, which played an important role in the neighborhood's desegregation. From the guidebook to the Mount Pleasant Heritage Trail:
In 1948 the U.S. Supreme Court ruled that covenants prohibiting the sale of houses to individuals of certain races or ethnicities could not be enforced. Two years later, Dr. Robert Deane became the first African American to purchase a house in Mount Pleasant that carried the old covenant. But it wasn't easy.
The Deanes bought 1841 Park Road from Lillian Kraemer Curry. Curry had inherited the house, built in 1906, from her father Charles Kraemer, a German immigrant wine and spirits merchant. In the 1920s the all-white Mount Pleasant Citizens Association began promoting a covenant binding homeowners never to sell their houses to "negroes." Kraemer and most of his neighbors signed it. Even though the Supreme Court had outlawed this practice when Kraemer's daughter sold the house to the prominent black gynecologist in 1950, a small group of neighbors sued to stop the sale based on the old covenant. The neighbors lost in court, and Dr. Deane owned the house until his death in 2001.
The article originally misspelled the last name Kranz. Photos by Jonathan L. Fischer
201211132223, Perverted Photoshopped cover of Petraeus biography mistaken for the real thing during live news broadcast
By Daily Mail Reporter, 20:06 GMT, 13 November 2012 | UPDATED: 22:33 GMT, 13 November 2012
Denver ABC affiliate shows Photoshopped cover of Paula Broadwell's Petraeus biography with a dirty word added
Petraeus resigned as CIA director after admitting that he and Broadwell had been having an extramarital affair
Some have pointed to the 'All In' title as a direct indication of what Petraeus and Broadwell were up to
As if the 'All In' title wasn't controversial enough for the David Petraeus biography written by his mistress, a news station ran a fake book cover during a broadcast – with a few unfortunate words added.
The blunder occurred during ABC's Denver affiliiate KMGH-TV's 5pm news broadcast yesterday, when the image of Paula Broadwell's All In: The Education of David Petraeus, appeared alongside a recent video of her speaking.
But the title of the book had been altered to say: 'All Up in My S*****.'
Scroll down for video
Mistake: Paula Broadwell's book appeared on a news broadcast yesterday with several unfortunate words added
Scandal: Gen Petraeus resigned as head of the CIA after revealing that he had engaged in an affair with Broadwell, pictured here with her book
The photo pops up as one of the top images when doing a Google search of the words 'All In' and 'Broadwell,' which is likely what the editor searched for.
The photo links to DeathandTaxesmag.com, which had removed the image by Tuesday morning – but republished it later in the day.
In a story on KMGH-TV's own website, news director Jeff Harris called the incident 'a regrettable and an embarrassing error.'
He added: 'We are mortified this appeared during our 5 p.m. news broadcast.  The editor pulled the image of the book cover from the internet without realizing it had been doctored.
The real deal: To write All In, Broadwell spent the last few years following Petraeus around and interviewing him
More than friends: As news of the infidelity scandal broke, the 'All In' title of the book has been called out as an early indication of what Petraeus and Broadwell were up to
'We sincerely regret the error and have corrected the story to avoid any recurrence of its broadcast.  We are following up internally as well to avoid a repeat of this inexcusable oversight.'
There was no mention of the editor's name, or whether he or she will be keeping their job.
As news of the story broke, the title of the book has been called out as an early indication of what Petraeus and Broadwell were up to.
Last night, Daily Show host Jon Stewart joked that the title should have been 'Who Has Two Thumbs and Is Banging His Biographer?'
It's 'All In' the title: Jon Stewart suggested an alternate name for the biography that Broadwell wrote
201211132314, How Paula Broadwell and former CIA director David Petraeus used modern spy tricks to keep their affair a secret
By Meghan Keneally, 23:14 GMT, 13 November 2012 | UPDATED: 23:14 GMT, 13 November 2012
Petraeus set up a Gmail account under a pseudonym
Broadwell had access and they would leave messages for each other in the drafts, which is a modern version of a 'dead drop' maneuver
The couple would delete their messages after reading so there was no electronic paper trail
The irony of the former CIA director getting caught in a sex scandal even though he was presumably the country's top spymaster is obvious.
But that doesn't mean that David Petraeus and his biographer-turned-mistress Paula Broadwell didn't use some handy espionage tradecrafts to keep their liaisons a secret for nearly a year.
Petraeus and Broadwell would communicate using a dummy Gmail account that they set up as a modern version of the classic spy 'dead drop' trick, where they would leave their messages in the account's draft folder to save it for the other to see.
Affair: David Petraeus is pictured with Paula Broadwell, his biographer and alleged mistress
Insult: A photograph in June 2011 shows Broadwell watching as Petraeus and his wife Holly arrive for a Senate Select Intelligence Committee hearing on Petraeus' nomination to be director of the CIA
Rather than sending each other actual emails, which would create an electronic paper trail, they would write messages and save them as drafts.
The other would then log in to the same account, view the message, delete it and then leave a response that would also be saved rather than sent.
Dead drops, wherein spies leave messages for their sources or informants at a neutral location and then the individual would go and pick up the message before returning with their own response.
In the digital era, however, Gmail's draft folder creates an easy space for teenagers, terrorists, and apparently philandering politicians to do the same.
Deception: Paula Broadwell is married to a radiologist, Scott Broadwell (left), and they have two young sons together, while Petraeus has been married to Holly for 38 years. They have two grown children
Petraeus was the one to set up the fake account in this case, and he used a pseudonym to do so.
The pair may never have been caught if Broadwell didn't go against the papertrail the save-but-don't-send trick safeguarded the lovers from.
The scandal came under investigation only after Broadwell used one of her email accounts to send anonymous emails to Florida housewife Jill Kelley.
From right: Holly Petraeus, Jill Kelley and her husband Scott, Gen David Petraeus and Jill Kelley's sister Natalie Khawam far left
Jealous: Broadwell sent Jill Kelley, far right, threatening emails warning her to stay away from Petraeus. Pictured with Kelley is her husband, Scott, and Holly Petraeus
The 37-year-old Kelley knows a number of high-profile military men because she is an honorary social liaison for MacDill Air Force base in Tampa, Florida.
Kelley contacted a friend of hers who is an FBI agent because she felt threatened and feared for her safety after receiving a half-dozen anonymous emails.
A government official told the New York Post that the emails contained such language as: 'I know what you did,' 'back off' and 'stay away from my guy.'
The official added: '(Broadwell) clearly thought something was going on' and thought she was in a 'lovers triangle.'
A person who knows both Mrs Kelley and Petraeus confirmed their friendship and said she saw him often.
'Very sexy': Kelley has been accused of sending 'flirtatious' messages to another general, John Allen
Enjoying herself? Kelley laughs while checking her phone in her Tampa home on Tuesday
All three of those involved- Kelley, Petraeus and Broadwell- were all married to other people and they all have multiple children.
The Kelleys- Jill and her surgeon husband Scott- have been close family friends with David and Holly Petraeus for around five years and the two couples have been frequently photographed together at parties.
Government sources have said that Kelley exchanged emails and IMs with General Petraeus daily but those were on his official account and were monitored by staff members, and are not considered inappropriate.
Now another four-star General has been roped into the allegations, as the Pentagon has since started its own investigation into 20,000 to 30,000 pages of communications between John Allen, the commander of U.S. and Nato forces in Afghanistan, and Kelley.
Scandal: Gen. John Allen, pictured before the Senate Armed Services Committee in March as his wife and daughter look on, is under investigation for sending 'inappropriate emails' to a military party planner
Allen and Mrs Kelley met in the same manner that she became close with Petraeus, as Allen served on the same Florida base from 2008 to 2011.
The same innocent nature of the communications between Kelley and Petraeus cannot be said about her emails with Allen, as investigators flagged a number of them for being 'flirtatious'. They have not specified whether it was done by Kelley, Allen or both.
The Washington Post gave the example of Allen's use of the word 'sweetheart' in referring to married mom Kelley, but a senior Pentagon official said that proves nothing as the 58-year-old general is from Virginia and the word is used in the south as a platonic phrase and not one demonstrating a romantic relationship.
---
s3ra